Just a few steps away from the Cagayan de Oro river bank is a curious white, cylindrical figure, hemmed in on two sides by the San Agustin Church and Gaston Park. Although it is by no means imposing by modern architectural standards, its unique appearance, visible nowhere else in the city, commands attention.
Water Tower Town
Viewed from afar, the structure's simple lines and vertical orientation give the passing impression that it is a scaled down lighthouse. The likeness however, is not absolute, and there is no actual similarity in function. What it really is, is an old water tower. Built from 1921-1922, it originally served as a reservoir for water coming from Malasag Hills. It is now considered the city's oldest known surviving public structure. This, and its obvious ties to the city's physical representation of its spirit, the river, makes it a fitting repository of the city's museum and in effect, its history.
The photos of the interior used here were taken with permission five years ago on my first visit. I have since revisited the place twice over. With each visit, there had been noticeable changes in internal arrangements and displays. One thing is certain though, the museum has always echoed the Kagay-anon pride in local heritage. This was most evident during my last visit when it was made apparent that steps were being painstakingly taken to detail the history of Cagayan de Oro in the hopes of correcting erroneous stories that had been circulating online and elsewhere.
Abbreviated History of Cagayan de Oro
An account of the history of Cagayan de Oro endorsed by the city's Heritage Council was handed over to me by museum staff. This account, supposedly culled in part from the writings of Filomeno Bautista is supplemented by archaeological studies printed and displayed at the museum's third floor.
Archaeological studies suggest that there may have already been the presence of people as far back as 50,000 years ago. The practice of secondary jar burials was also determined to have been performed by people who once lived at the site of the present city.
Prior to the arrival of the Spaniards, Cagayan de Oro was known as Kalambagohan or Malambagohan, owing to the profusion of lambago trees lining the river. Its early inhabitants were of Manobo origin with marriage ties to Visayan seafarers.
The first Spaniards to visit Cagayan de Oro in 1622 were two Recollect missionaries who became acquainted with Datu Salangsang and his people, then regarded as the most peaceful in Mindanao. They resided in a fortress known as Himologan and paid tribute to Maguindanao's Sultan Kudarat.
With the threat of attack from Sultan Kudarat due to the presence of the two Spaniards, Fray Agustin de San Pedro, later dubbed El Padre Capitan, convinced Datu Salangsang to relocate nearer to the river delta, the site of the present day city.
The newly occupied site, then called Cagalang, became the location of a fort built under the instruction of Fray Agustin. It was here where Sultan Kudarat was eventually repelled. This victory culminated in the baptism of Salangsang and his wife, the first converts of the settlement. Cagalang was then renamed Cagayan el Chico (small Cagayan), Cagayan coming from a proto-Austronesian word, Carayan, which means river. In 1818, Misamis became a province, and in 1871, Cagayan was designated its capital and was renamed Cagayan de Misamis.
Contrary to what some believe, Philippine revolutionary history was not restricted and synonymous to just the history of the Southern Tagalog and Central Luzon provinces. With the end of Spanish rule in 1898, Kagay-anons also elected officials under the Aguinaldo revolutionary government. With the coming of the Americans months later, local citizens funded and organized efforts to resist American rule.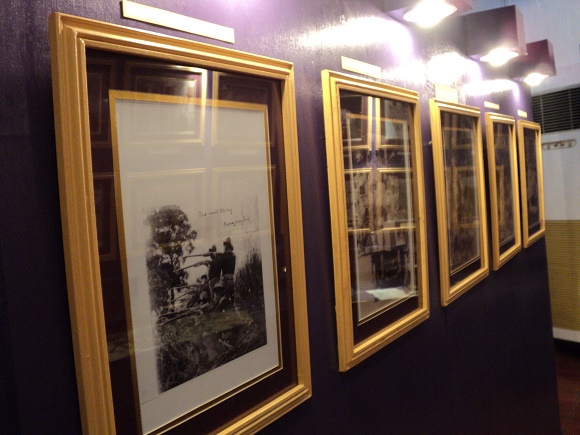 In 1900, Kagay-anons fought Americans in the Battle of Cagayan de Misamis on April 4, the Battle of Agusan Hill on May 14, and the Battle of Macahambus Hill on June 4, this last one distinguished as the first Filipino victory in the entire Philippine-American war.
During World War II, while still under American rule, parts of Cagayan were bombed in 1942 and 1944 and was only liberated by local guerillas in 1945. By then, the town had been badly damaged. The old water tower however, had remained intact.
On June 15, 1950, Cagayan de Oro became a city by virtue of Republic Act 521 signed by President Elpidio Quirino. Oro, an Italian and Spanish word for gold, was appended to the city's name in recognition of the gold found in its river and hills.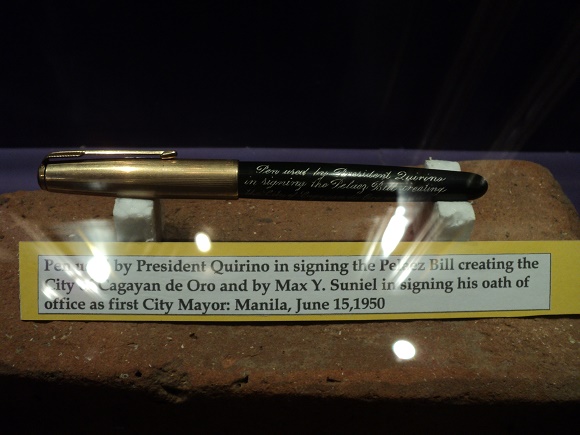 From the point of view of semantics, Cagayan de Oro can therefore be literally translated to River of Gold. Some years ago, the city had been widely dubbed the City of Golden Friendship, an apt appellation that has hopefully not been lost to the new generation of Kagay-anons, despite seemingly subtle and unofficial previous attempts to create a city moniker more in keeping with a political theme.
Every proud and true Kagay-anon should consider going back to his roots, down by the river in the old water tower, the oldest and truest witness to a city's proud history and culture.
References:
1. Cagayan de Oro Heritage Council
2. Filomeno Bautista
3. Cagayan de Oro City Museum
4. Congress, House Bill 2522
5. Chan Robles, Republic Act 521