Growing up, I would account for my initial lack of interest in my own history and culture as owing to the seeming inaccessibility of physical references outside of Manila. Before the age of the internet, school libraries in the provinces where I'd lived had open shelves teeming with intriguing accounts of western history and literature. Philippine books in the same genres however, were either unavailable, or out of sight, carefully cordoned in restricted areas. In bookstores, local titles never stayed for very long.
By dint of good timing and fortune, I now find myself living in an age where the touch of a button is the only barrier to educating ourselves about us. For anyone who'd like to join me in a journey of self-discovery through printed media, here's my list of top ten online bookstores where you can purchase rare or limited edition Filipiniana books about history, culture and society.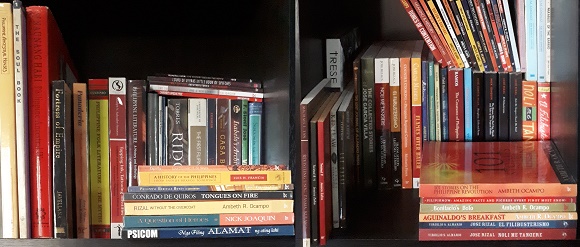 10 – Solidaridad
Founded by National Artist for Literature, F. Sionil Jose, this bookshop at Padre Faura Street in Ermita is often cited as a premier source of printed works about local culture and history, and rightly so. Established in 1965, it is one of the earliest unabashed champions of Philippine books and literature, even attracting luminaries from distant lands with its allure.
The respect it is accorded by its patrons is perhaps the primary reason why it deserves a spot in any top lists of Philippine bookstores. As an online business however, it is sadly far behind its more current contemporaries. As of 2016, the only way you can purchase online is if you message them via Facebook and if they have what you're looking for, they send via LBC.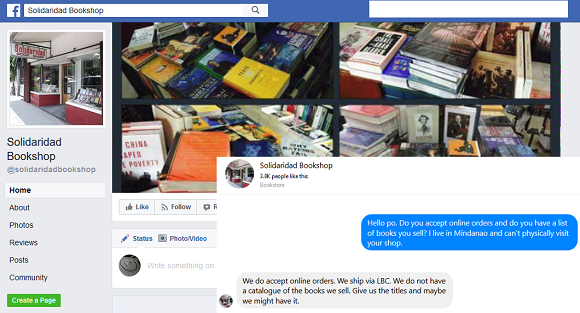 Facebook Page: https://www.facebook.com/solidaridadbookshop/
9 – National Bookstore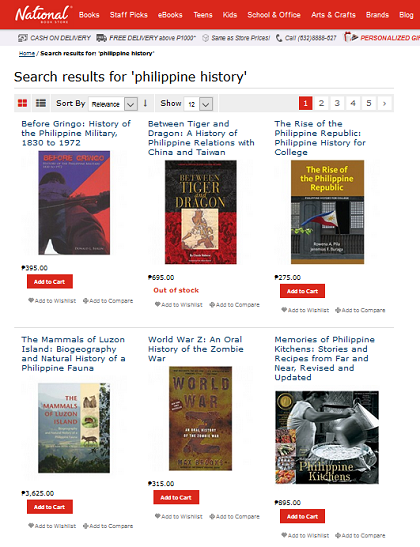 With over 200 branches nationwide, this veteran heavyweight has been everyman's books and supplies store since the 1930s. With a foot firmly placed in the digital age, their fully functional and secure eCommerce website processes book orders payable though Visa, Mastercard, BPI and Cash on Delivery. Purchases are delivered by Xend or 2Go Express.
The downside to this ubiquitous bookstore is its inventory. Although they stock foreign books and popular locally written pocketbooks in abundance, works about Philippine literature, culture and history especially by the more academic authors don't stay in their shelves longer than a couple of weeks after release.
Buying Tip: Check your local branch for what you're looking for. That might save you the approximately one week waiting time for your order to arrive.
Website: https://www.nationalbookstore.com/
Facebook: https://www.facebook.com/nbsalert/
Twitter: https://twitter.com/nbsalert
Instagram: https://www.instagram.com/nbsalert/
8 – AbeBooks
This Amazon subsidiary is an online platform for buying and selling all sorts of books. Its main draw for me is, of course, its rare and out of print items, with my best purchase to date being the 1972 reprint of Cummins English translation of Morga's Sucesos de las Islas Filipinas. Of interest are the occasional listings of Maximo D. Ramos' lower mythology books.
The high prices and cost of shipping are of course the main drawbacks, but one other main point of concern is the quality of our customs and postal services. Here, we mainly rely on magic and positive thinking for packages from abroad to arrive. Fortunately, AbeBooks does have a refund policy in case purchases fail to arrive.
Books are sold by individual sellers who are also responsible for shipping them. Payments can be made through Visa, MasterCard and American Express, with some sellers providing additional options such as PayPal, check or money order.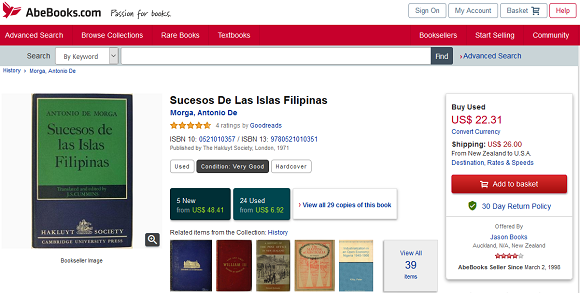 Buying Tip: Although sellers must abide by AbeBooks's rules, it doesn't hurt to be extra careful about purchasing. Contact a seller you plan to buy from and ask questions.
US Website: https://www.abebooks.com/
Facebook: https://www.facebook.com/abebooks/
Twitter: https://twitter.com/abebooks
Instagram: https://www.instagram.com/abebooks/
YouTube: https://www.youtube.com/user/AbeBooks
7 – Ebay
Who doesn't know Ebay, the original virtual auction block, a teeming morass of everything saleable under the sun. Their search bar aptly instructs, "Search for anything". Without a doubt, such freedom hints at the possibility of getting duped. Hence, the key word here is: Caution. Finding the right sellers is the key to unearthing a treasure trove of Filipiniana. My best buys include Looking Back Essays, The Myths and The Aswang Inquiry.
Of all the sites on this list, Ebay demands the most due diligence from buyers. Sellers have different payment methods, policies and delivery options.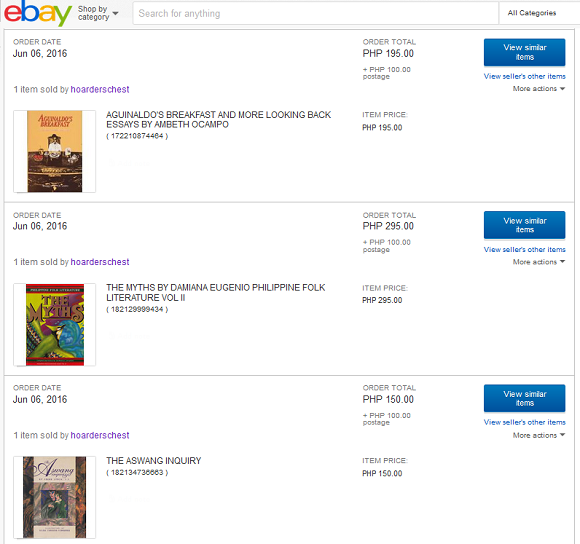 Buying Tip: Look for local sellers if you can; read feedback, review ratings, communicate, and check payment and delivery options.
Recommended PH Seller: https://www.ebay.ph/usr/hoarderschest
6 – UP Press
This is, of course, the publishing arm of the University of the Philippines, which is enough of a recommendation in itself. The truly laudable mandate, which they have taken upon themselves, to publish scholarly and creative works not normally accepted by commercial publishers, is almost to be expected of them.
Understandably, they have a small catalog, as they only really sell their own books, and knowing exactly what you're looking for before you head over to their store may be ideal. That said, even if you're just browsing, every single item is worth the attention. An excellent gem I've picked up from here is Madrid's riveting Flames Over Baler. As of this writing, they only accept Visa payments for deliveries in the Philippines.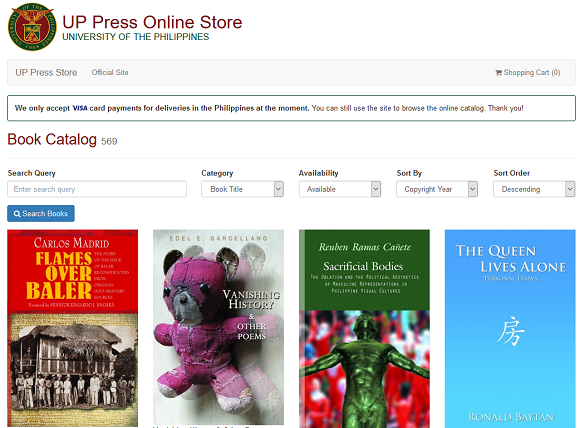 Buying Tip: They offer numerous available points of contact, including a Facebook page. Consider contacting them for questions.
Online Bookstore: https://press.up.edu.ph/store/
Facebook: https://www.facebook.com/UniversityofthePhilippinesPress/
Google Maps: https://www.google.com/maps/place/UP+Press/
5 – Ateneo Press
The Ateneo De Manila University also has quite a commendable publishing division, featuring literary and academic works covering a wide range of disciplines including law, culture, society, theology, politics, archaeology, and even the more specialized field of Mindanao studies.
Like the UP Press, they only sell their own titles and web page navigation options are a bit limited, albeit more visually appealing, so it'll help to know what you want in advance. Their decided edge is their payment options with Visa, MasterCard and JCB; their buyers' FAQ page; and active and responsive social media staff. My treasured purchase to date? The Collected Stories of Jose Garcia Villa, the Pope of Greenwich Village himself.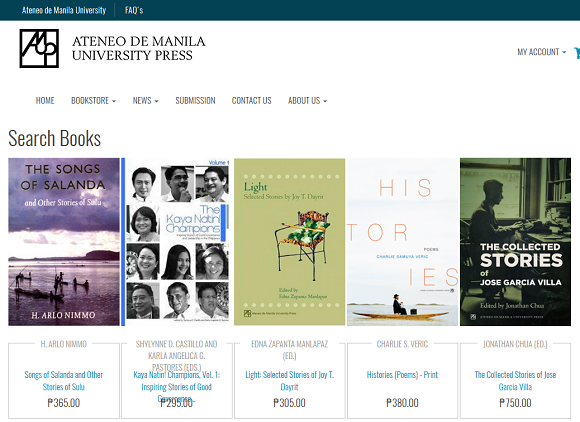 Buying Tip: Read their FAQ page before you attempt to make a purchase, and if you really need to ask them anything, head over to their 4.5 star reviewed Facebook page.
Online Bookstore: http://ateneo.edu/ateneopress/
Facebook: https://www.facebook.com/AteneoPress
Twitter: https://twitter.com/ateneopress
4 – Anvil Publishing
This is the publishing division of National Bookstore, and like its mother company, it seeks to draw the attention of the greater public. Their titles with a bearing on history, culture, society and literature, are presented in such a way as to pique the interest of the average Filipino on the street.
It's not just their unique publishing and marketing angle that's given them the competitive edge, their online bookstore also gives the smoothest browsing experience, with selections sorted under several category types such as genre, recency and popularity. Truly an excellent set up designed to convince both the casual browser and the undecided.
My list of Anvil purchases is a long one which includes Ambeth Ocampo's Looking Back series, some of which are already off the shelf in physical stores; and such intriguing titles as Isabelo's Archive and Panaderia. Anvil processes credit card payments via Paypal and delivers orders through Xend.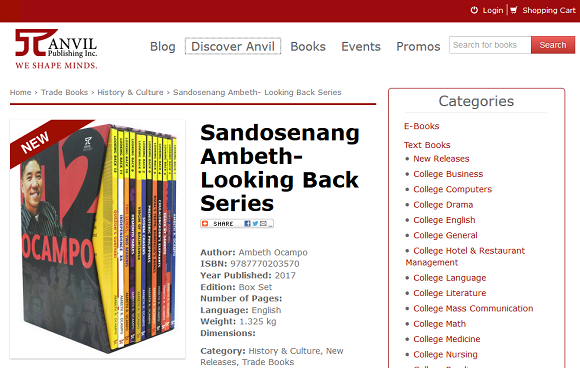 Buying Tip: Anvil's website gives the distinct impression of a good buying experience. Any uncertainty can easily be dispelled by reading through their comprehensive FAQ page or visiting their social accounts.
Online Bookstore: https://www.anvilpublishing.com/
Facebook: https://www.facebook.com/AnvilPublishingInc/
Twitter: https://twitter.com/anvilpublishing
Instagram: https://www.instagram.com/anvilpublishing/
3 – Mt. Cloud Bookshop
I was born in Baguio City, so it is a source of great pride for me to discover that there is, in the heart of my home city, this thriving hub of Philippine art and literature. Like every true cultural center, they exude genuine passion. This is the one shop on this list that talks of the "wild beauty of books" and books "about to come alive". You can even feel their devotion to local culture through their beautifully wrapped deliveries.
Their titles are 80% Filipiniana, with their unique edge being their special section on works on Northern Luzon. Unfortunately, their navigation and search options are perhaps the most limited, with the Books page showing only a few items. You'd need your own list of author names and titles to search.
Among the great titles I've purchased from here are Bamboo Dancers, Revisiting Pasma, Distances in Time and Looking for the Pre Hispanic Filipino. Payments can be made through credit card via Paypal.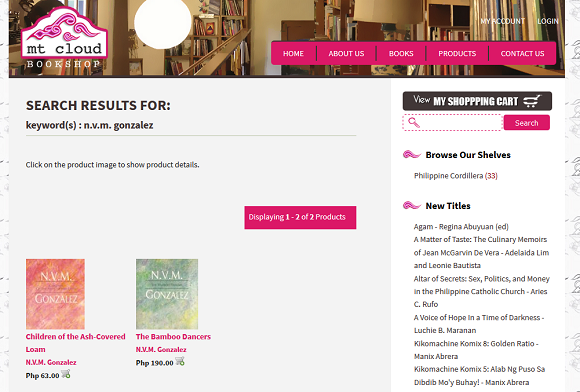 Buying Tip: They post photos of their shop and some of their books online. You might find a couple of titles you're interested in there to search for on their website.
Online Bookstore: http://mtcloudbookshop.com/
Facebook: https://www.facebook.com/mtcloud
Twitter: https://twitter.com/mtcloudbookshop
Instagram: https://www.instagram.com/mtcloud/
2 – Amazon
It seems both unfortunate and absurd that I have had to purchase works about the Philippines from a company based overseas. But that is the sad reality of Philippine books and publishing. No one wants to read enough to keep our culture and history alive in print on our own shores.
I am grateful to Amazon for such invaluable gems as An Introduction to Baybayin, Sinaunang Habi and two of Maximo D. Ramos' books on lower mythology. Because Amazon is an established eCommerce behemoth, its system is naturally smooth and pain-free. For that however, the trade offs are the high cost of shipping and processing and the seemingly interminable shipping time.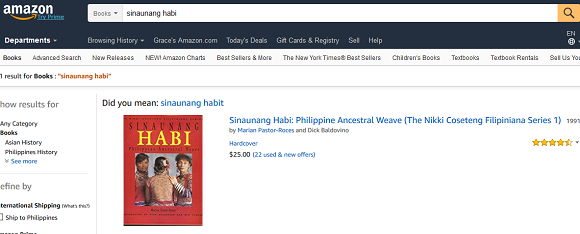 Buying Tip: I only really buy items marked "Ships from and sold by Amazon.com" because this reduces the chances of getting scammed by third party sellers or of not receiving items due to shipping issues. The reason why Amazon charges so much is because they will try their absolute best to get your items through the jungle of additional fees slapped on international orders.
But just because an item is sold by Amazon, it doesn't mean it's always what you'd expect it to be. Hence you need to ensure you read every piece of information there is about what you're about to buy. Ramos' books for example are sometimes sold as US reprints, and not original copies printed in the Philippines.
A Note On Ramos' Books: I called Phoenix Publishing's Manila office to tell them about the reprinted copies of Ramos's books and to ask if there was a way for me to purchase originals. I'd been told that there are still six assorted copies vailable. For provincial buyers like myself however, I can only ever obtain them if I had friends in Manila who could buy them for me.
Website: Amazon >> World Literature >> Asian >> Philippines
1 – Artbooks.ph
At the top of my list is this beautifully classy, but unassuming champion of Philippine art and culture. Some of their books are so rare, they are unavailable in physical stores and can only be sourced directly from the authors themselves. It isn't just their inventory that makes them the best choice; other reasons include a fairly basic but helpful shop navigation and excellent customer service. Best of all, they're a locally based store which cuts the cost of shipping.
My book haul from here is a long one and includes The Soul Book, Kinilaw: A Philippine Cuisine of Freshness, Casa Boholana, Las Casas: Bajo de las Campanas, Philippine Ancestral Houses, Tapping Ink Tattooing Identities and Fortress of Empire. Credit card payments are accepted and processed through Paypal, and purchases are shipped through courier.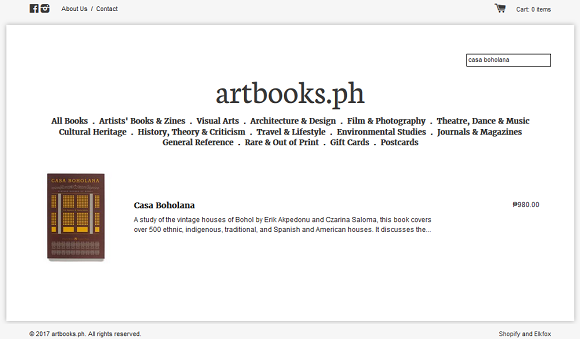 Buying Tip: They usually send a number of confirmation emails upon purchase and delivery, so you needn't worry if you're getting these notifications. If you're buying for the first time though, and worried about your package, email them. They're responsive, and, the last time I checked, have quite a friendly tone.
Online Bookstore: https://artbooks.ph/
Facebook: https://www.facebook.com/artbooksph-1579299915630630/
Instagram: https://www.instagram.com/artbooksph/
If you are one to deplore the difficulty of entering into a deeper understanding of who we are as a people, modern technology may have just provided a solution. Truly, the digital era has now destroyed all excuses not to discover our story. Pick up a book online and start reading.
References:
1. Inquirer >> Solidaridad at 50
2. Rappler >> Solidaridad Bookshop
3. Wikipedia >> National Bookstore
4. How AbeBooks Works
5. UP Press Mission Vision
6. Ateneo Press History
7. About Anvil Publishing
8. Mt. Cloud Bookshop Story
9. Amazon >> About Import Fees
10. About ArtBooks